Borrow and renew
Borrowing documents
You must be registered with one of the Lyon 3 libraries and have your library card with you.
You can borrow items at the reception desk of each library or by using the automatic lending machines at your disposal.
You can borrow
20 documents for a period of 14 to 28 days
depending on your status.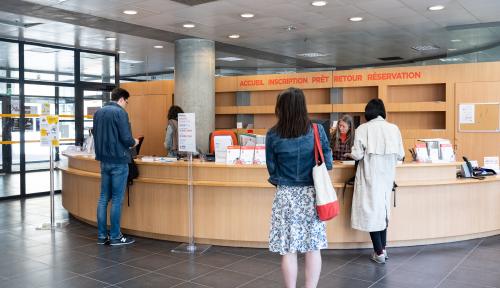 "Three-day loan" service
Some documents, which are in high demand, have a borrowing period limited to three days to allow as many people as possible to consult them.

A "three-day loan" label is attached to these documents.

Warning ! The late-return penalty is multiplied by four for this type of document.
Returning documents
Documents can be returned to any of the libraries on the Lyon 3 campuses.

Return boxes
The Manufacture, Law and Philosophy, and MILC libraries have return boxes where you can deposit your documents when the libraries are closed.



Renewing documents
You can renew a document you have out on loan once, three days before the return date.
It is not possible to extend three-day loans, DVDs or documents reserved by another user.
You cannot renew an item if the book concerned is already late or if you are late with one of your other books.
Renewals are for a duration equivalent to the period of the initial loan: 14 days for students, 28 days for doctoral students and professors.
Penalties for late returns
Late returns of items will automatically trigger the suspension of your borrowing privileges: the suspension will be for a period equal to the number of days the items are overdue.
For the three-day loan service, one day overdue = four days of borrowing suspension.
This penalty applies to the entire Lyon 3 library network.

WARNING ! Excessively late returns may prohibit you from re-enrolling at the university.
Replacing lost documents
If you lose a book
, you must purchase a new copy, in its latest edition. If the item is out of print, you must refund it at its actual price.
If you lose a DVD,
you should not buy a replacement because only certain organisations are licensed to sell DVDs to libraries. You must therefore contact your library's reception to pay for the item, which includes the price of the DVD and its distribution rights. The library will purchase the DVD.
If it is impossible to find an equivalent price or item, you must pay a flat rate of 30 euros.

Last updated: January 14, 2020
In the same section
--> https://bu.univ-lyon3.fr/borrow-renew