Reserving a document
Reserving a document that is out on loan
You can only reserve a document if it is already out on loan to another user.
A reserved document can be transferred between the three Lyon 3 University Libraries: Manufacture, Palais and MILC. It can be collected from the library of your choice.
Books, comics and DVDs can be reserved (except those with loan-term restrictions, such as works used to prepare for the agrégation teaching diploma, for example). Journals cannot be reserved.
Reservations are effective for six weeks and will be automatically cancelled after this period.
You can make up to five reservations simultaneously.
Reserving online
Reservations are made from the library catalogue
.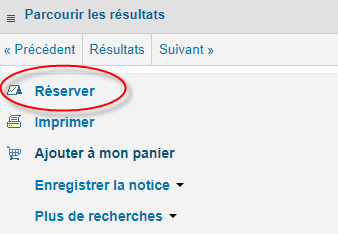 A booking link "Réserver"
will appear on the right-hand side of the screen. This link will not appear if the document is already available on the shelf. Choose the library where you would like to collect your document. You will receive email when it is available.
An email will inform
you that the document you have booked is ready to collect. You have three working days to pick up the item.
Requesting an item from the storeroom
Some books are not accessible directly in the reading rooms but are kept in "storerooms", areas accessible only by the librarians.
They may be consulted, on request, using the storeroom request link "Demande magasin" displayed in the University library catalogue.
You have three days to pick up your books from the library reception desk.
from 8.45 am to 6.15 pm, Monday to Friday; and
from 9.45 am to 4.15 pm on Saturdays.
Requesting a document through the interlibrary loan service (ILL)
Making a purchase suggestion
You can make your purchase suggestion online.
►
Sign in to your account
Go to the "My purchase suggestions" tab, "Mes suggestions d'achat".
After agreement with the librarians, your book will be ordered and placed on the shelf.
Last updated: May 16, 2023
In the same section
--> https://bu.univ-lyon3.fr/place-a-hold