Book a study spot
Several study rooms can be booked :
Book a group study room at the Manufacture Library
Rooms can be booked up to seven days in advance.
You can book up to three hours per day, in half-hour slots.
How to book a group study room
► On your smartphone via the
Affluences application
► On a computer using the
Affluences website
10 group study rooms are available to book
Rooms 1 to 6 on the 2nd floor of Management ( "Competition and certification" "Hobbes Building")
Rooms 7 to 10 at the entrance of the 2nd floor of Humanities ("Humanities and Languages" "Fini Building")
Rooms 1 and 6 are equipped with a screen allowing one or two computers to be projected at the same time. To use them, borrow one or two "ClickShare" buttons from reception and follow the instructions in the study room.

Number of places per room:
Room 1 : 5 places (with screen)
Rooms 2-3-4-5 : 3 places
Room 6 : 8 places (with screen)
Rooms 7-8-9 : 2 places
Room 10 : 4 places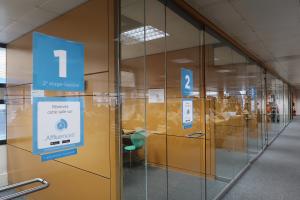 Last updated: April 26, 2022
In the same section
--> https://bu.univ-lyon3.fr/book-a-study-space