Libraries closure for the end of year vacations
Published on December 1, 2023
–
Updated on November 17, 2023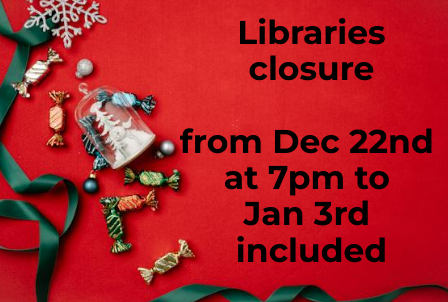 Lyon 3 libraries will be closed from Thursday December 22nd to Wednesday January 3rd, 2024.
END OF THE YEAR VACATIONS
The libraries of the Manufacture, the Palais and the MILC will close for the end of year vacations
from Wednesday, December 22, 2023 at 7 pm until Wednesday January 3rd, 2024.
OPENEING HOURS BEFORE CLOSING
Friday December 22, libraries hours are modified:
Manufacture and Palais Libraries : 8:30 am-7pm
MILC Library : 8:30 am-
6:30 pm
REOPENING
Manufacture, Palais and MILC libraries will reopen on Thursday, January 4, 2024 at 8:30 am.
►
The BU schedules
►
The Digital BU open 24 hours a day, 7 days a week.
We wish you all a happy vacation season and a joyous celebration.
Last updated: November 17, 2023